The Rovic Holdings Difference
Thinking of buying a new spreader? Check out Rovic Holdings' extensive list of what to look for.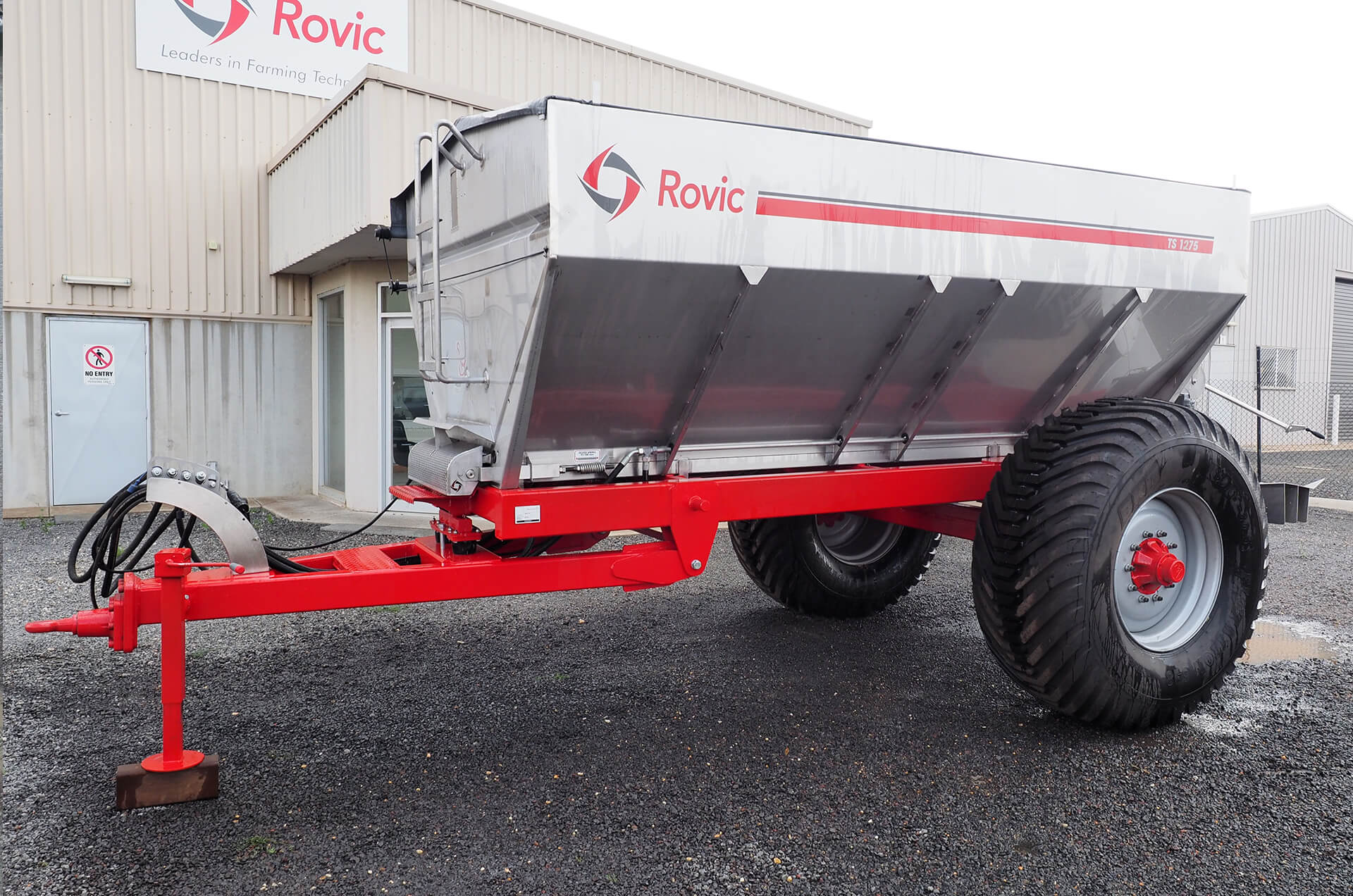 MaterialsWhile paint and coatings are great, nothing has the durability of stainless steel for the bin and parts contacting the fertiliser. Rovic Holdings spreaders are built to last from the highest quality structural stainless steel. While we recommend you do not leave Urea in your spreader for extended periods, you know this is built to last.
Build qualityRovic Holdings spreaders have been four years in the making. We've sourced the best design, and most robust proven technology to ensure you get the best quality spreader available. We've spent the last 2 years testing the machine to ensure it's right. The people behind Rovic are experienced agricultural manufacturers and suppliers. We know what works, what's going to last and what it takes to design, engineer and manufacture a spreader that's going to last.
LineageDoes the design of the Rovic Holdings spreader look familiar? It should because it's the latest generation of the Transpread deign used by all major spreader manufacturers. Originally designed by NZ spreading contractor and later designer and manufacturer David Hoyle. The Rovic Holdings spreader you're looking at is the result of 60 years of spreader designs.
SimplicityLooking for the moving parts? We took them all away and only kept what was absolutely necessary. And the parts we do have are all proprietary. The bearings, hydraulic loom and motors are more than likely on the shelf at any supplier near you. Rovic keep a full range of parts in stock, but you'll know you can get our parts anywhere.
WarrantyTwo year front to back warranty against manufacturing fault. Ask other spreader manufacturers if their warranty compares.
The chainHow does the chain compare to a belt? Rovic warrant the chain on our spreaders for five years. They're tough and durable and were originally designed for the salt spreaders in North America and Canada, and that is one tough environment. Plus they're a positive system, so gravity or slope doesn't affect the flow of fertiliser. Knowing that your spinners are getting active fertiliser flow in all conditions is the first step in ultimate fertiliser accuracy.
AccuracyEvery manufacturer tells you their spreader will throw to 24 or 36 metres. But it's how evenly it spreads within this range that makes a spreader truly great. Rovic spreaders while throwing the required distance are also independently tested to ensure our CoV is under 15%.
Test kitWe all know there's wide variation in fertiliser quality. Rovic Holdings supply you a test kit to calibrate and ensure the accuracy of your spreader in all conditions with all types of fertiliser. Plus we supply full instructions on how to use the kit and interpret the results.
ControlRovic Holdings have chosen TeeJet as the controller for the spreaders. TeeJet are proven in all forms of sprayer and spreader control and have been the gold standard for over 40 years in supplying the best control equipment to agriculture.
SimplicityRovic Holdings spreaders are fully ISOBUS-compatible. Simply plug and play into your ISOBUS tractor and away you go. No need for another control box in an already cluttered cabin, simply plug in and away you go. Full control at your finger tips.

The results speak for themselvesThe Rovic spreader, in recent independent testing, achieved an unbelievable CoV of just under 13%. This CoV means not only are we spreading to 36m, we are doing it more accurately and eventy than most other spreaders on the market.

The coefficient of variance (CoV)
The best way to measure spreader accuracy is using the co-efficient of variance (CV). Its fine to say the spreader will throw to 24 or 36m but it's the evenness of spread that makes all the difference. The CV is a measurement of the evenness of the spreading application, with a lower CV indicating a greater spreading accuracy.
The industry standard used in Australia is a maximum CV of 15% for granular products and a maximum of 25% for lime and gypsum. The CV value is a ratio of the standard deviation to the average value across the width of the bout, or the distance between passes.
To understand CV: we need to start with standard deviation, which is a measure of how widely a set of values differs from the average of these values. A sample with a high standard deviation would have a wide spread of results, and one with a low SD would have a very narrow spread of results.
SD would be fine for comparing spreader performance from one machine to the other if they all had the same average result, but this isn't the case. For that reason, we use the CV, which is the ratio of the SD to the average for a particular set of results.
- Kondinin magazine